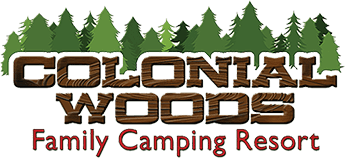 Announcements
COVID-19 Response
Dear Colonial Woods Campers and Friends,
As you know our priority here at Colonial Woods, has and always will be, to provide a safe, family friendly campground for our quests to enjoy. We have been carefully monitoring the evolving COVID-19 pandemic and are in regular contact with government entities and the Pennsylvania Campground Owners Association (PCOA) for guidance and information. On March 20th, 2020, Governor Wolf's office notified PCOA that private campgrounds may remain open. In order to operate in a responsible manner, we will be implementing control measures recommended by the state and federal government to mitigate the risk of spreading COVID-19.
With the right control measures in place and personal responsibility, camping at Colonial Woods can be a safe place for you to spend time with your family without the risk of contracting or spreading COVID-19. This is a rapidly changing situation and we will do our best to keep you informed on the status of the campground and services available. As new information and guidance becomes available, we will post to our website and our Facebook page. Please don't hesitate to contact us by email (camping@colonialwoods.com) or phone (610-847-5808) if you have any questions.
Linay and I are grateful to all of our guests, that make Colonial Woods Campground a wonderful place to make family memories and friends that last a lifetime. While we collectively work our way through this difficult time, please be safe, follow the CDC guidelines, and take car of each other.
Sincerely,
The Haubert Family- David & Linay-Nathan, Benjamin, and Daniel